Health & Fitness Tips & Tricks with Eugenia Kuzmina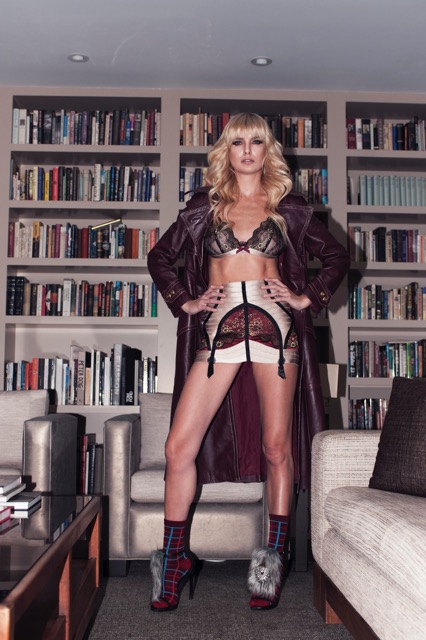 If you've been to my stand-up comedy shows at The Comedy Store, you know that my set always starts with "I'm so Hungry."There's really nothing funny about these words…but every time it gets a huge round of laughter, because there's an assumption that models are always starving …Which is not true.
It's impossible to have a successful and lasting modeling career without a healthy relationship with your body. Trust me, I've tried…
When I was 15 years old and got a big modeling contract with my first international Agency in Paris, I fell into the trap of the the pressure of being evaluated and hired based on weather I fit the clothes or not. As a normal teenager, I wanted to be liked, and I also needed to earn money for my family in Russia. After a few rejections, which are part of the business anyway, I committed to the diet of coffee and a morning egg—that's all! Bad idea, as I did lose a lot of weight, but also started losing my hair, my skin became dull, started breaking out, and I stopped having my period. Thankfully, my boss Nathalie Cros-Coitton was like a mother to any young model who crossed her path. She sat me down in her office and said that either I go to see a doctor and sort out how to be healthy or my career as a model would have to end…. I still really appreciate that talk.
After seeing a psychologist and nutritionist, we figured the optimal health plan for my body, which is not the same for everyone! It consisted of not stressing out, eating fresh organic food like healthy veggies, salads and lean protein—and most importantly—coming from place of self-love and self-care first when treating my body. I never relied on strict diets or repression, ever since always coming from the place of self-love.
Over the years of international travel as a model from one continent to the next, I continued to study health and different approaches to it in different countries and cultures. I studied how eastern medicine different from the wester approach Homeopathy, neuroplasticity, yoga, energy healing, meditation became a very dear topic to me. Working with so many different people every day and constantly being on the plane taught me to be in tune with exactly what I need to feel healthy , whether it's a steam after a long flight , yoga after posing for 12 hours in the photo studio , meditation to unwind after a season of fashion shows.
Then in becoming a mom in my early twenties during the busiest time of my career, I took self-care to the next level. Now I had two extra babies to care for and make sure they are healthy besides me. It's not the easiest task when you have a modeling contract to fulfill 3 months after giving birth. But as someone who is used to, and even excited to, overcome challenging life situations, I knew I will continue to be ok! Besides getting my natural body weight back with breastfeeding, I decided to educate myself on how to make the body stronger, being able to endure 3 hours naps between babies, and consistent work. I found amazing Pilates exercises online, which you can do in any hotel room—and more than that—I found my magic Ultimate Work Out Machine (UWAR, https://www.workoutandrecovery.com/UWAR-for-Moms_118),which was introduced to me in the right time after having 3 kids, a dog, and also a career as an actor and stand-up comedian, on top of modeling.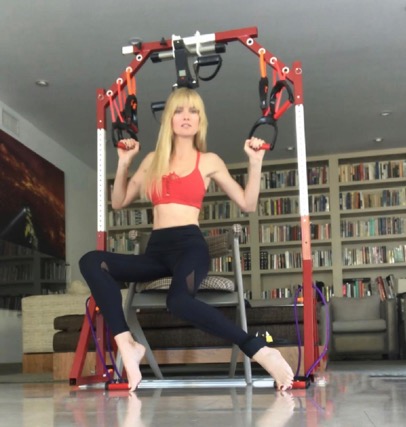 I just completed an episode on the UWAR Spider System workout machine for my blog www.modelmom.tv and am currently working on a comedy book about healthy motherhood!
Here are some of my favorite tips and tricks to be happy and healthy:
Consider any food a healing energy source for your body. Food is medicine, not to be confused with a tool to heal your emotional wounds. Fresh celery juice is one of my favorite things first thing in the morning to eliminate inflammation, get rid of toxins and promote glowing skin.
I also love beet carrot juice for the jetlag and detox.
Simplicity is the key in any meal. There are so many articles on what is good or bad to consume. I always approach any meal with eliminating as many ingredients as possible that are not existing in nature: sauces, blends. My body doesn't have 7 hours to figure out different elements to digest.
After researching more on the vegetarian way of living, I feel myself leaning towards that way of nutrition. It's part of my education about the farming process and anti-animal cruelty.
I absolutely love "Russian Sauna "…. Yes, you are beaten with birches after extreme heat and cold plunge but only to speed the detoxification of the body in the process. Our body mostly consists of water and sweat is very important for health.
Exercise is crucial for mental and physical health. Your body needs different types of exercises in different times. Currently I love working on enhancing endurance and strength with UWAR, and if I have extra time, add some yoga.
Meditation is the key to living in the present. One of my favorite trips this year was to the silent retreat "Spirit Rock."There's nothing more educational then listening and being just present for 10 days strait.
I find music very healing. It's the ultimate source to the heart of matter and listening to the music I love, or dancing makes me happy in my core.
Visualization is a big part of how I trick my unconsciousness to achieve the goals I need, whether it's a healthy body, a summer bikini body or else. Just visualize that your already there, meditate on it, and come from a place of love and self-love.
P.S. – Russians use food as real medicine in case of nothing else being available: plain yogurt would heal your sunburn. If you have high fever, rub your whole body in vodka and cover up with blankets. It will help eliminate the heat.
Photo Credits
Photographer is Colin Angus (for credit)
Stylist Elena Nazaroff,
Makeup Claire Piao
Lingerie: Sara's Lingerie (for bottom three lingerie photos)