Two Time Grammy Nominee Karyn White's New Film "Gale And The Storm" Now Available On Amazon WorldWide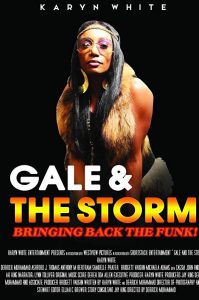 Platinum-Selling Two-Time Grammy Nominee Karyn White's new indie film "Gale & The Storm" is now available on Amazon worldwide. Purchase, download or rent your copy today!
Karyn White is best known for her R&B singles: "Superwoman", "Secret Rendezvous", "The Way You Love Me"  and the Billboard Hot 100 number one single "Romantic." She became the first female artist to have her first three solo releases hit #1.
She possesses one of the most memorable, distinctive voices ever heard in popular music. She's an accomplished singer/songwriter who etched herself into music history with her smash hit song, the female anthem, "Superwoman". That song made international waves, selling over a million units, being certified Gold and named the Billboard R&B Song of the Year in 1989. She IS a super woman. She's Karyn White.
White's new Movie and Soundtrack, "Gale &The Storm", is a story loosely based on Karyn's life and Manager Jay King, Legendary Music Producer & founder of the Grammy Award Winning group "Club Nouveau". The movie's synopsis revolves around a revolutionary music producer who links up with a legendary soul singer and tries to convince her to sing again. White executive produced, co-wrote and stars in the film.
White also executive produced, co-wrote and recorded 8 songs on the soundtrack for "Gale & the Storm". The soundtrack is a brilliant fusion of cosmic funk, soul, rock and R&B. White recorded the songs in a record breaking 2.5 days while filming the movie in a 7-day period. White delivers an array of fiery and soulful melodies while belting out every note and inflection with power White will take the listener back to the good ole days of 70's & 80's .
Rent or Buy your copy of "Gale & The Storm" on Amazon here:
https://www.amazon.com/Gale-Storm-Karyn-White/dp/B07F1KX9…
Download your copy of the "Gale & The Storm" soundtrack here:
https://itunes.apple.com/us/album/gale-storm-music-from-inspired-by-original-motion-picture/1350232550
Follow Karyn White on Twitter @Karyns_World
The official website for Karyn White may be found at http://www.KarynWhite.me
For more information or interviews with Karyn White contact
worldstarpublicrelations@gmail.com