Hooked Like Helen's Piano Ballad "Liar" Featured in High Strung Free Dance Available May 31st on Netflix
Hooked Like Helen's piano ballad "Liar" is a featured song in High Strung Free Dance available on May 31, 2020 on Netflix. 
Hooked Like Helen began as the musical brainstorms of husband-and-wife, Jon and Nikki Stipp. Experimental home recordings quickly developed into an alt-pop vision; within a year of the project's inception, Nikki and Jon had shaped a new sound that reflected their truth and their influences in a seamless blend of organic and electronic production. The band's 2019 five song EP, Tragedy Of Physics, co- produced by Nikki and long-time friend and collaborator, Grammy-winning Isha Erskine, garnered international attention: The music video for the angsty-beautiful piano ballad 'Liar' was premiered on Radio Disney platforms and was released Oct 4th as part of the soundtrack for the movie High Strung: Free Dance.
Building on the fresh model set forth in its 2016 predecessor High Strung, HIGH STRUNG FREE DANCE again brings together numerous dance styles and extraordinary performers from around the world as well as the same creative team, Broadway stars and husband-wife duo Michael Damian and Janeen Damian. Michael and Janeen Damian both wrote and produced HIGH STRUNG FREE DANCE, with Michael directing.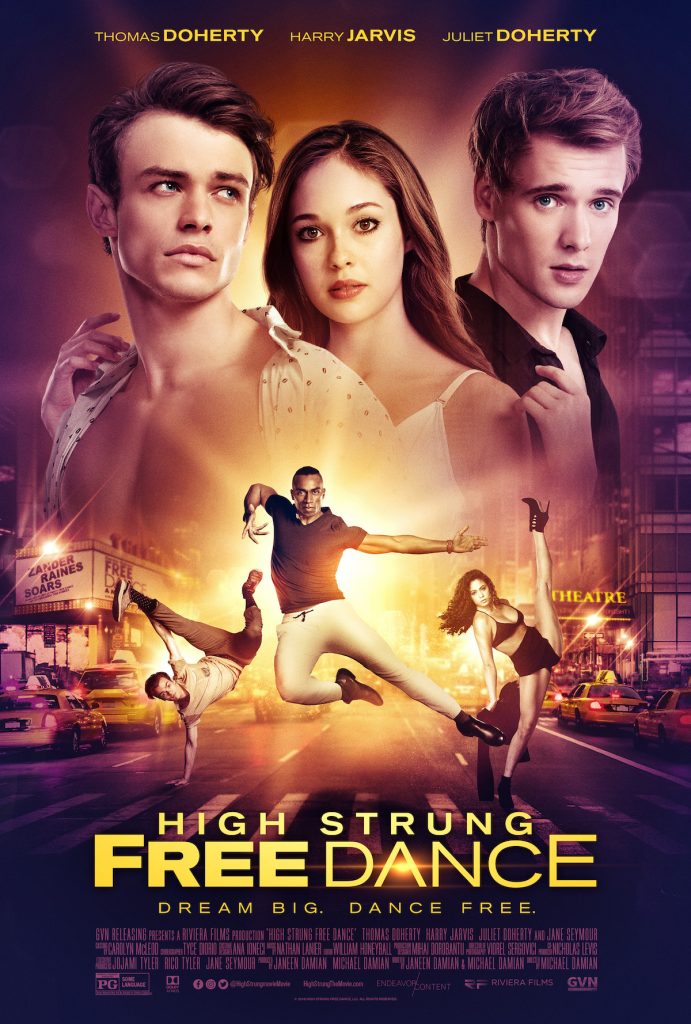 The thrilling romantic dance movie tells the story of Zander Raines (Thomas Doherty), a dazzling and tempestuous young choreographer who gives the break of a lifetime to two hopeful artists when he casts a stunning contemporary dancer, Barlow (Juliet Doherty) and innovative pianist, Charlie (Harry Jarvis) in New York's most-anticipated new Broadway show: Free Dance. But the move throws off the show's delicate creative balance when Charlie falls hard for Barlow while Zander embraces her as his muse.
Hooked Like Helen is now preparing a new EP for release in Summer 2020 and is slated to perform shows in L.A. and the Ohio area. Hooked Like Helen played a Livestream show from the historic 1500 seat Sandusky State Theatre on May 20th, broadcast to local fans via the Sandusky Register. The duo's sound embodies a unique vein of pop music; Nikki's haunting, layered harmonies and lush vocal arrangements create a surreal atmosphere of simultaneous melancholy and hope, dissonance and resolve. Dark lyrical themes of existential pondering provide an eerie contrast to HLH's sonic sensibilities in a timeless, ageless context in which melody reigns supreme. Piano hooks, intricate, rhythmic bass lines, and epic, driving drums carry the songs of Hooked Like Helen through a slightly sad world view, always with a groove and a constant sense of Pop.
Follow Hooked Like Helen on the web:
Facebook: https://www.facebook.com/hookedlikehelen/

Instagram: @hookedlikehelen https://www.instagram.com/hookedlikehelen/

Twitter: @HookedLikeHelen https://twitter.com/HookedLikeHelen

Youtube: https://www.youtube.com/channel/UCZc9UWom1QesC5zaB2R6DfQ
Website: https://www.hookedlikehelen.com