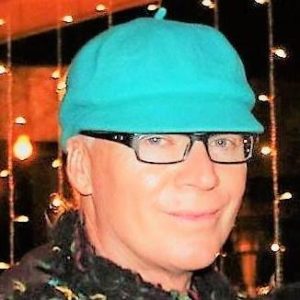 World renown artist/fashion designer/creator Garyk Lee captures the essence of a Palm Springs Lifestyle through his Fine Art Print Series entitled "Fashion Fused Architecture In Retro Palm Springs Style." This amazing signed series consists of five renderings that capture the architecture of the times while incorporating fashion to create a lifestyle image, a "Mad Men" stylistic approach to midcentury architecture.
The series consists of five drawings that are available in signed and numbered artist proofs and poster prints, as well as in a group of 5 individual Fine Art blank greeting cardsThe Reception (Palm Springs Circa 1962)
The Reception (Palm Springs Circa 1962)
Quiet Desert Eve (Palm Springs Circa 1964)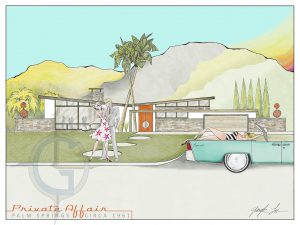 Private Affair (Palm Springs Circa 1961)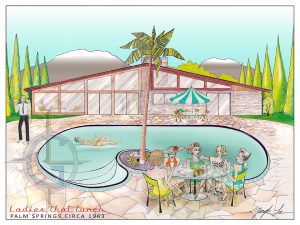 Ladies At Lunch (Palm Springs Circa 1963)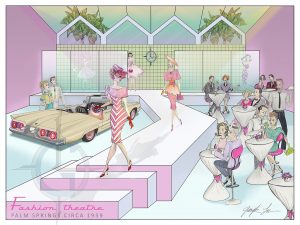 Fashion Theatre (Palm Springs Circa 1959)
The "Fashion Fused Architecture In Retro Palm Springs Style" series is the latest in a long list of accomplishments that include opening his couture salon in Beverly Hills, being praised by and compared to other great designers by International Fashion Critique Mr. Blackwell, as well as Albert Nipon, renowned designer to the stars of the seventies and eighties. Garyk Lee's fashions have been seen on numerous well known celebrities, as seen on  The Emmy Awards red carpet worn by daytime television superstar  Judith Chapman (known for her starring role on "Young and the Restless") several times.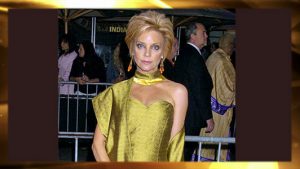 Actress Judith Chapman
In addition to his new picturesque series, Garyk Lee continues his Art through commissioned fashion, product design, paintings and murals. He is also currently in pre-production on a television dramedy which will feature many of his various talents.
Check out http://www.garyklee.com  for up to date information on his career as a world renown creator.
To purchase renderings from "Fashion Fused Architecture In Retro Palm Springs Style" by Gark Lee click here:
Follow Garyk Lee on Twitter @GarykLee1957