UK Singer/Songwriter Sam Stevens New Single "Grand Illusion" Now Available Worldwide
UK singing sensation Sam Stevens has just released his new single "Grand Illusion" which is now available digitally worldwide.
Proclaimed globally as the "James Bond of the Music World", British born, pop- romance, recording star Sam Stevens, continues to intrigue the planet with his textured, sparkling, velvet vocals, his high-voltage positive energy, and his gentle heart.
As a child  music proved to be young Sam's savior, however he was also quintessentially  creative enough to study fine arts in London and Paris after high school. Nevertheless resurrecting his sonic fire during London's "New Romantic" movement seemed imperative. It was then Stevens found himself mingling with artists  including Boy George, Spandau Ballet, and Steve Strange while running nightclubs such as the Camden Palace, Electric Ballroom and Barfly. This awarded him the opportunity to gig at will. Eventually he became one of the most sort after session guitarist in London. Ultimately during a trip to the US, Stevens obtained the accomplishment and dream of a lifetime when he played on stage at Bunkers with none other than Prince……Then he gave it all up…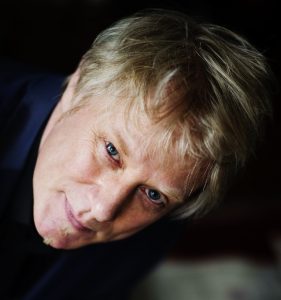 After several years of struggling with life, opening a designing business, one daughter and several marriages later, Sam's passion for music still remaining in his soul and heart was rekindled. When music mogul Simon Napier Bell came across some of his songs via YouTube. He encouraged Stevens to record several albums at Thailand's Karma Studios, and in turn after hearing several tracks the international adult contemporary band World5 coaxed Sam into replacing their lead singer. After successfully recording an original song written with World5, Sam departed and began a solo career.
"Grand Illusion" is his third single release following up the highly success singles "Don't Cry" and "My Kind Of Crazy."
Download "Grand Illusion" on iTunes in the United States here: https://itunes.apple.com/us/album/grand-illusion-single/1393330812
Now, the James Bond of the Music World is ready to rock the planet with his latest  single "Grand Illusion" available worldwide on all digital platforms now!! Make sure to support this indie superstar on his new endeavor, often being compared to Duran Duran and David Bowie, as he is an incredible showman and super talented singer/musician.
Follow Sam Stevens on Twitter @SamStevensMusic
Like Sam Stevens on Facebook http://www.Facebook.com/SamStevensMusuc
For interviews or more information contact worldstarpublicrelations@gmail.com