Caroline Williams: "Scream Queen Sensation" by Eileen Shapiro
Like an orgasmic Tsunami, actor, producer and singer, Caroline Williams left an unending mark upon the world of horror with her role as "Stretch", in the unforgiving tale of "The Texas Chainsaw Massacre 2". She was the  only woman to survive death as she lay there with her legs spread apart in a tub of ice, begging for the chainsaw not to go any further.
Other films Williams has appeared in include but are not limited to: "The Legend of Billie Jean", "Stepfather 2″, Days of Thunder", "Getting Even",  "Alamo Bay", "Leprechaun 3", "How the Grinch Stole Christmas",  "Halloween ll", "Contracted", and Hatchetlll". Some of here television appearances include: "The Mentalist," "Grey's Anatomy," "Suddenly Susan," "ER.\," "Nip /Tuck," "NYPD Blue," "The Division," and "Sabrina the Teenage Witch".
Aside from all of her incredible acting accomplishments, and an overwhelming effervescent personality and a rock star magnificent, Caroline is also a producer and singer. About to unleash a brand new project entitled "Greenlight." After a two hour conversation, Caroline easily became a best friend. We traded questions and answers regarding her powerful career, inner most feelings, and further endeavors.
What prompted you to become an actor?  
I have always loved telling stories.  When I was a kid growing up in the South, staying out late and telling ghost stories under the streetlights was such a treat.  Now, I get to do it in real time!
Can you recall a moment that changed the whole trajectory of your life?
Probably my first audit of an acting class. It galvanized the vision I had for my future and nothing has been the same since.
Were you a fan of horror movies before you became a horror movie Scream Queen?
Yes and no.  I remember seeing a brief scene from The Texas Chainsaw Massacre in Austin in 1975 during Texas/OU weekend and it scared the hell out of me!  It was the scene with Pam going on the hook and it was shot in such cinema verite style that I was completely unnerved.  Also, The Exorcist had made it into theaters at that time, and horror was achieving greater fan interest.  The Omen pretty much sealed the deal for me.  I'd always loved the Universal Monsters (particularly Frankenstein), but there was an innocence to those movies that was completely redefined by Tobe Hooper, William Friedkin and Richard Donner in the movies that I named.
What moment stands out as the highlight of your career thus far?
There have been so many.  Each movie provides its own indelible impressions and each actor/director/DP/crew person has an effect on my life.  My career has been one long luxury ride.  I have been honored to share the experience with so many gifted people.
Was there a favorite or most challenging role that you've portrayed, and why?
I truly think that is ahead of me.  My talents and emotional life have only grown and matured and my inclinations to take risks are enhanced in this time of my life.  But Stretch (TCM2) gave me everything I have, so she'll always have a special place in my heart.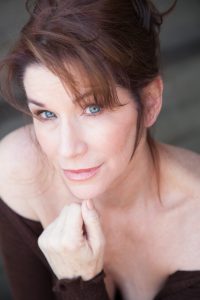 Knowing everything you know now, what advice might you give 'baby' Caroline?
Hold on, baby!  It's gonna be a long ride. . . .
Aside from films, you are also exploring other avenues in the entertainment industry… explain yourself ?
I love movies and music, esp. when they come together.  I miss the day of the rock/metal musical and would love to be involved in something like that.  The possibilities are as varied and interesting as there are musicians and bands.
You have a brand new project about to be unleashed to the unsuspecting world…tell us about it please. 
"Greenlight" is a collaboration between Eric England, my friend and creative inspiration from Contracted, and Graham Denman, a gifted writer and director chosen by Eric to direct.  Eric is a prolific writer and knows exactly how to use me.  We shot this film in 14 days for about 50k.  A true labor of love, where I get to play opposite the redoubtable Chris Browning (Westworld, David Ayer's Bright).  Great part, great creative contributors, terrific actors.  Can't wait for it to meet the world!
Follow Caroline Williams on the web
Twitter @willicaroline
Facebook https://www.facebook.com/caroline.williams.58152
Instagram https://www.instagram.com/willicaroline/
Website https://www.willicaroline.com
Photo Credit: Jeremy Saffer